Once an in-house function within the company or brand, logistics has evolved into an efficient outsourced operation that saves companies money; they can effectively outsource their entire supply chain, as well. Montage Fulfillment LLC is a 3rd party logistics company that provides a host of virtually unlimited finishing and value added services. It offers extra benefits that further improve a brand's bottom line.
Why choose a 3rd party logistics company
There is a reason why most market leading companies continue to outsource their supply chain services to third party logistics providers. A 3rd party logistics company offers much more than just warehousing and freight. A market leading 3rd party logistics company like Montage Fulfillment LLC can streamline supply chain and logistics operations while helping businesses scale exponentially. Montage Fulfillment LLC offers shippers a competitive advantage over their business rivals. Outsourcing isn't just about cutting cost, it's also about generating supply chains that gives you an edge.
What makes us the leading 3rd party logistics company
As a leading third-party logistics provider, we specialize in providing an integrated yet flexible operations for warehousing, distribution, and shopping cart fulfillment. This means that all our services can be modified to fit the customer's exact specifications and scaled, as needed, at any time. Additionally, our Los Angeles company offers proximity to some of the world's major ports (LA, LB) and airports (LAX). This gives you the ability to distribute nationwide and worldwide.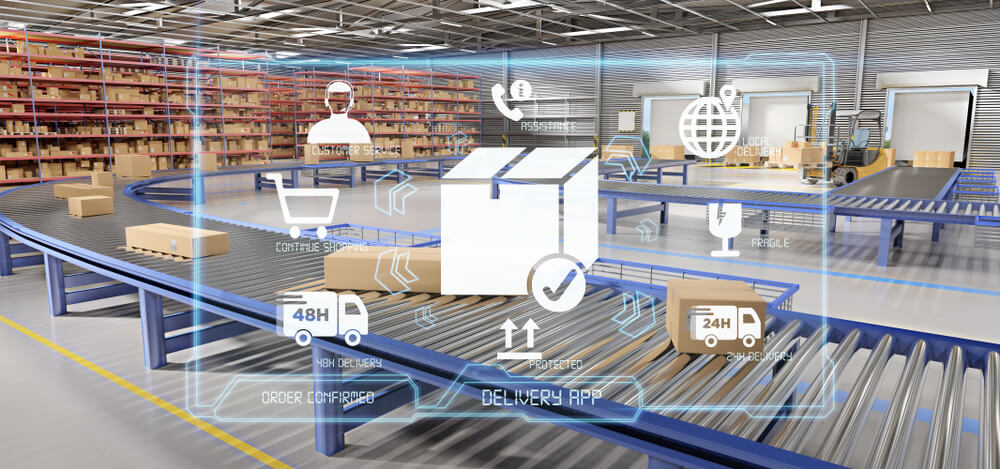 When considering third-party logistics and fulfillment companies, we recommend that you look for the following:
A comprehensive consultative approach and a true partnership.
Continuous communication and a get-it-done attitude.
A team that provides you with the best logistics solutions that make sense for you and your business.
Comprehensive services, including Direct to Consumer (DTC), Business to Business (B2B), Business to Consumer (B2C), Inbound, Cross-Docking, Inventory Management, Warehousing, Shipping, Distribution Center, Transportation, Key Performance Indicators (KPI) and Finishing / Value Added Services (VAS).
Fast and accurate order turn-around, often within 24 hours or less when needed for your B2C orders.
Established relationships and willingness to work with your customers and third party vendors.
State-of-the-art technology solutions, including Warehouse Management Systems (WMS), Electronic Data Interchange (EDI), RF Barcoding (RFID), Business Intelligence (BI), and an IT team that ensures seamless integration.
Online access to your inventory and orders anytime, anywhere.
Transparency and visibility
Hassle-free scalability
A dedicated team with easy access to anyone from your account manager to upper management.
Montage Fulfillment LLC
has been offering the above approach and solutions to our clients since our inception, which is why our clients continue to trust us with their business year after year. You can read our
customer testimonials here.
Our Approach to your Logistics Strategy
When you work with Montage Fulfillment, you get a trusted 3PL Fulfillment partner that works with you every step of the way. By leveraging our advanced systems, skilled experts, and maintaining continuous communication, we deliver the results you need. You enjoy full transparency, visibility, and security, while your products are delivered to market quickly and in compliance with your requirements and those of your customers.
Our proven formula for success is simple :
Complimentary consulting session with you
Comprehensive strategic analysis and implementation planning
Collaboration with all of your channel partners, including suppliers, retailers, intermediaries, and third party service providers
Fully customized logistics strategies, including Warehousing, Retail Fulfillment services, eCommerce Fulfillment, Finishing / Value Added services, and Transportation, designed to meet your specific needs
Packaging solutions that support product presentation and adhere to retailers' standards
Technology solutions, such as real-time order and inventory access through our Warehouse Management System (WMS), Bar-code filtering for precision, and Electronic Data Interchange (EDI) for paperless and effective information transmission
Open communication and continuous improvements
Together, we design, implement, and manage a winning Logistics strategy.
Technology Advantage
As a logistics and fulfillment company we understand that technology plays a key role in effective and efficient supply chain management, which is why we have adopted the best technology and solutions available. Our logistics and fulfillment technologies allow us to not only fully integrate and automate our operations but they also enable us to provide transparency, visibility, and accuracy to our clients.
Warehouse Management System
Our warehouse management system automates and streamlines all operations performed at our facilities. In addition, the system feeds data into our client-accessible systems, such as the E-Portal, in real time, so clients are able to access important up-to-date information anytime, anywhere.
Read More
EDI, E-Portal, and RF Bar-coding
EDI or Electronic Data Interchange allows for information, such as orders, to flow seamlessly, securely, and without delays from you the client, to us, and the other way around. EDI increases the speed, accuracy, integrity, and reliability of data, while allowing for format standardization and complete and comprehensive audits that significantly decrease administrative costs.
Our E-Portal allows clients to securely access account information anytime, anywhere using our web-based platform. You can view inventory, orders, customized reports and more, while knowing that all data is fully up-to-date and in real-time.
RF Bar-coding allows us to quickly and accurately capture, transmit, and store information pertaining to your inventory. As inventory arrives or leaves the warehouse, it is scanned by our laser bar-code scanners and transmitted immediately into our WMS. As soon as the data enters the WMS it is available to you, the client, through your personal E-Portal.
Read More
Safety and Security
We believe that the safety and security of your products is of the utmost importance, which is why we utilize top notch security tools and procedures at all of our product fulfillment centers. We ensure your assets are safe at all times of the day and night.
Read More